AlterG Anti-Gravity Treadmill
Train Unburdened
Thanks to its precise unweighting technology, the AlterG® Anti-Gravity Treadmill® allows you to push your training and physical therapy rehabilitation further than ever before. You can:
Reduce gravity's impact by selecting any weight between 20% and 100% of your body weight by 1% increments
Rehabilitate lower extremity injuries with less pain and less impact
Improve mobility, strength and safety for those with neurological conditions
Provide a safe way to lose weight and exercise more intensively while unweighted
Train without pain and reduce the stress to joints and muscles
Recover effectively and with less pain after training or competition
Services
Physical Therapy
Occupational Therapy
Hand Therapy
Lymphedema Therapy
After Surgery Care
Sports Therapy


Balance and Coordination Training
General Fitness/Flexibility/Strengthening
Bracing/Custom Orthotics and Splints
On Site Durable Medical Equipment Store
Equipment List
Med-X Strength Machines
NuStep Recumbent Bikes
Treadmills
Upper Body Bike
Inversion Table
Biodex Balance System

True Stretch
Free Weights
Pediatric Equipment
Cable Column Machine
Rebounder
---
AlterG Anti-Gravity Treadmill
The Next Step in Physical Therapy Rehabilitation
Unlike any other piece of training equipment available, the AlterG Anti-Gravity Treadmill can take you further, faster than you ever thought possible after surgery, injury or other mobility impairment.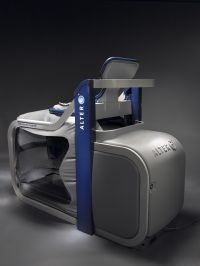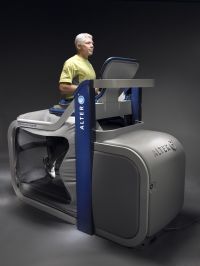 Find Your Form
The innovative AlterG Anti-Gravity Treadmill is a game changer in physical therapy rehabilitation. Whether you're a patient or an athlete dealing with lower body injuries, chronic pain or neurological conditions that inhibit mobility, you can benefit from the unweighting capabilities of the Anti-Gravity Treadmill. The Anti-Gravity Treadmill helps a broad spectrum of people – top level athletes, orthopedic and neurological patients, children, seniors and those looking to lose weight - to achieve their personal health, wellness or performance goals.
Train Unburdened
Thanks to its precise unweighting technology, the AlterG® Anti-Gravity Treadmill® allows you to push your training and physical therapy rehabilitation further than ever before. You can:
Reduce gravity's impact by selecting any weight between 20% and 100% of your body weight by 1% increments
Rehabilitate lower extremity injuries with less pain and less impact
Improve mobility, strength and safety for those with neurological conditions
Provide a safe way to lose weight and exercise more intensively while unweighted
Train without pain and reduce the stress to joints and muscles
Recover effectively and with less pain after training or competition